Rihanna cooks business like a Mac and Cheese
08/04/2022

Posted by:

Ricardo Delfin

Category:

Blog
In a bungalow on the outskirts of Bridgetown, Barbados, in a kitchen where you can barely pass, a girl learns from her mother the pleasures of good food. In pans and casseroles, julienne peppers and grated onions dance, a feast of macaroni and cheese for Caribbean palates.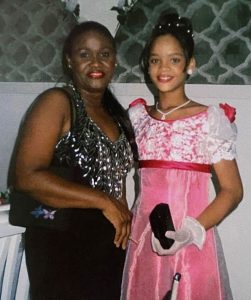 Rihanna is a woman who brings her passions and talents to the business world. She began singing in the shower. Then she formed a band with two school friends. And she even sang to Jay-Z Whitney Houston's "For the Love of You."
All this, to sell more than fifty million records that ignore the borders of little Barbados, which is a minor achievement compared to her ambitions as a businesswoman.
Her lingerie or makeup brands earned her a spot on the Forbes list: Robyn Rihanna Fenty is one of the richest women entrepreneurs in the United States.
"I could never identify with that word: 'weak.'" — RiRi
Rihanna represents previously ignored communities through a discourse where you can dress as you want, feel sexy, and have a space within the fashion world. Brands typically produce for "model" bodies, Savage x Fenty includes women of all sizes and shapes; makeup lines with their whitish and pale tones do not satisfy women of color, but Fenty Beauty does represent them.
All this discourse of inclusion is also reflected in her advertising, because it doesn't matter that you have "inclusive" products if the models who wear your ads are mostly white and thin. Rihanna builds a community of empowered women who follow her as a trusted figure.
And in that bungalow, in that small steaming kitchen, Rihanna potentiates another of her talents and passions: cooking. During the pandemic, she got into – like many of us – to experiment with the flavors that remind her of her homeland. Barbados' national heroine does it again: she explores the places she likes and feels no boundaries for anything.
"I'm really looking forward to seeing what life brings to me" — RiRi
Rihanna stands out for being a humble woman, who above all has always been strong and honest to her principles: inclusion, philanthropy and captivate with her music.
We recommend you try her macaroni and cheese recipe, we already tried it and they are great! Follow this link and prepare the mustard, catsup, julienne peppers and grated onions… you will need them.
Related